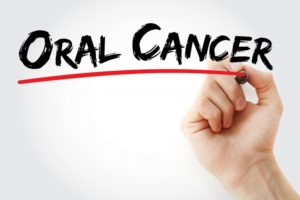 You take your health seriously. You try to eat right, drink plenty of water, stay active, and get lots of quality sleep. Maybe you even make it a point to see your doctor for checkups every year. Well, did you know that your dentist can play an important role in your health as well? At each dental checkup and cleaning, they perform an oral cancer screening to make sure you're cancer free. But, you might be thinking, if you don't smoke or drink heavily, do you really need this screening? This April, which is Oral Cancer Awareness Month, read this post to learn four reasons why you should get an oral cancer screening in Asheville.
Oral cancer can be deadly.
On average, oral cancer claims one life every hour of every day. Out of the 53,000 people who are expected to be diagnosed with oral cancer this year, only 57 percent of them will likely live to year 2024. And it doesn't just affect smokers and heavy drinkers, although those are major risk factors. Those who have had exposure to the human papilloma virus or extended periods of sun exposure on the lips are also at potential risk. About 10 percent of the those diagnosed with oral cancer have it through no known cause.
The signs of oral cancer can be tricky to spot for the untrained eye.
If you're trying to look for signs of oral cancer in your own mouth, you'll run into problems. First of all, you can't get a full, unobstructed view of your own mouth to see into the back, where oral cancer often shows up. Second, if you don't have advanced training, you may miss an important clue, such as the following:
Red or white patches of tissue.
Thick or crusty areas of tissue.
Lip or mouth sores that haven't healed.
Tongue numbness.
Loose teeth.
Lumps or bumps in the mouth, jaw, or neck.
An oral cancer screening is quick and painless.
Compared to a lot of screenings for other cancers, oral cancer screenings are remarkably short and non-invasive. It consists of a visual inspection of the inside of your mouth and a gentle tactile examination of your jaw and neck. In fact, you may have had an oral screening in the past without even knowing it! By including it in your routine dental appointment, your dentist in Asheville eliminates the need for a separate appointment for this important screening.
An oral cancer screening can save your life!
As with many other cancers, early detection can make all the difference in whether or not oral cancer can be overcome. In fact, for oral cancer patients who are diagnosed and treated early, the survival rate jumps up to 90 percent. Your dentist implements this screening into your routine dental visit so that they can discover it sooner rather than later.
In the end, it is worth taking a few minutes twice a year to get an oral cancer screening. It's better to do it and end up without oral cancer than to not do it and find out too late that you have oral cancer. This exam is just another reason to attend your semiannual dental appointments to help ensure that you enjoy many more years in a healthy life.
About the Author
After earning his dental degree from the University of North Carolina, Dr. John White participated in a two-year post-doctoral residency program at Wake Forest's University Baptist Hospital and Bowman Gray School of Medicine. This residency also included a one-year externship with the Midwest Implant Institute in Columbus, OH. Dr. White has since earned Master status with the Academy of General Dentistry. To make an appointment with him, you can call or click here.