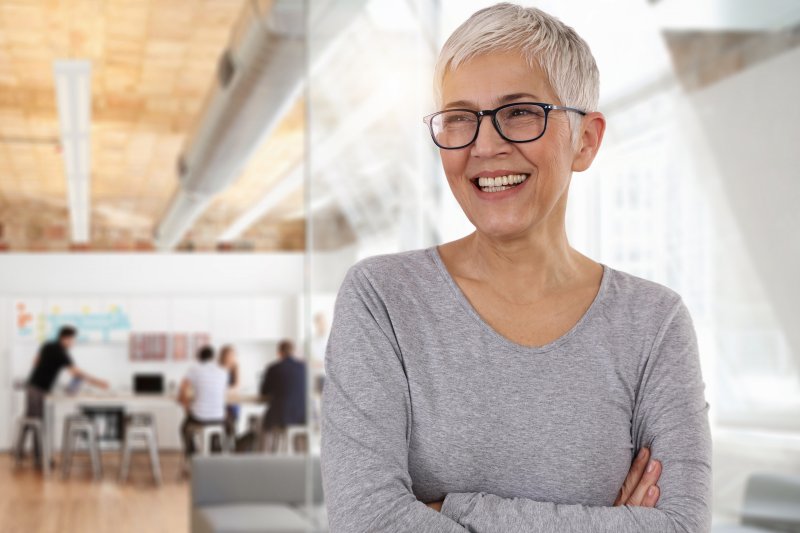 For patients who are missing some of their teeth, getting dental implants can be an excellent, life-changing solution; your new smile will look and feel natural, and you can comfortably eat whatever you want. However, if you have already done some research online, you may think that you won't be a candidate if you're already suffering from decreased bone density in your jaw. Fortunately, recent research shows that isn't necessarily true. Keep reading to learn about the link between bone density and dental implant success – and how it could make all the difference when getting new teeth.
Dental Implant Success and Bone Density
A group of researchers created a study to see if women with osteoporosis could get dental implants. Osteoporosis is where the bone tissue throughout your body becomes weaker as time goes on, making it easier for them to break or become fractured; the condition is particularly common among women. There is a type of medication that treats osteoporosis, but in some cases, it can cause already weak bones to die; if that happens to your jawbone, you are likely to start losing teeth.
The study involved 24 women; half of them were taking medication for osteoporosis while the other half did not have osteoporosis. Each of the subjects had their remaining teeth extracted and received dental implants immediately afterwards. After one year, all the dental implants that had been placed were deemed successful, meaning the posts were still in place and had good contact with the bone. This indicates that bone density actually increased for the women who got dental implants.
What Makes a Good Candidate for Dental Implants?
The above study indicates that even patients with osteoporosis might still be able to get dental implants. However, there are a few different factors to be considered in order to decide whether you're an eligible candidate for the surgery, including:
Oral Health: There needs to be plenty of healthy bone tissue in your jaw for dental implants to be successful; if you have been missing teeth for many months, you may need a bone grafting procedure. Also, gum disease needs to be treated, or it could cause implants to fail.
Overall Health: Uncontrolled diabetes, advanced forms of cancer and other health issues that affect the immune system can hurt your mouth's ability to successfully heal after dental implant surgery.
Lifestyle: Smoking harms your oral health and makes it more likely that dental implants will fail.
The good news is that when performed in the right candidates, dental implant procedures are found to be successful 98% of the time. If you think dental implants are the solution your smile deserves, take the first step today and set up a consultation with your implant dentist today to see if they're right for you.
About the Author
Dr. John White was born and raised in Asheville and is happy to be able to provide his hometown with high quality dental care. During a two-year post-doctoral residency program at Wake Forest University's Baptist Hospital and Bowman Gray School of Medicine, he built up expertise in a variety of procedures, including dental implants. To schedule an implant consultation at his practice, visit his website or call (828) 684-3020.