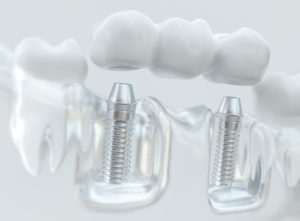 Now, new innovations in dentistry give you a variety of options to replace your missing teeth. Besides traditional treatments, you can also enjoy dental implants in Asheville. They allow you to invest in your smile because they can last for several decades while also closely mimicking your natural teeth. Contrary to what you may have heard, they can replace more than a single tooth. In fact, they can treat all cases of tooth loss. No matter if you are missing one tooth, multiple, teeth, or an entire arch, dental implants can help.
Replacing Teeth with Dental Implants
Dental implants differ from conventional treatments because they replace both the root and the crown of the tooth. Titanium implant posts are surgically placed into your jawbone to serve as new roots. Your jaw fuses to them to create a secure foundation for your prosthetic teeth. Do not worry. You do not need to replace multiple teeth individually. Instead, the treatment process varies slightly.
Single Tooth
A single tooth is treated using an implant post, an abutment, and a dental crown. The restoration is carefully crafted to match the appearance of your natural teeth to blend in seamlessly when you smile.
Multiple Teeth
You can enjoy an alternative to a tradition bridge and crowns or partial when replacing 2 or more consecutive missing teeth. A bridge of prosthetic teeth is designed to fill the empty space. 1 or 2 implant posts anchor it to your jawbone. There is no need to alter the adjacent teeth to put dental crowns on them, allowing your healthy teeth to remain untouched.
All Teeth
You can skip the slipping and irritation of a traditional denture using dental implants. An average of 4 implant posts attaches it to your jawbone. This restores as much as 70% of your biting force so you can enjoy your favorite foods and smile with confidence again.
Benefits of Dental Implants
Your implant dentist in Asheville can help you invest in your smile and your quality of life. Replacing both the root and the crown of a tooth allows you to enjoy several advantages, including:
Over a 95% success rate.
All-ceramic material allows them to look natural.
Feels natural by eliminating slipping and irritation.
Does not alter healthy teeth.
Stops dental drift.
Reduces risk of tooth decay, gum disease, and additional missing teeth.
Preserves your jawbone's density.
Protects your facial structures.
Cost-effective.
Easy maintenance and care.
Can last for several decades.
Complete Your Smile Today
Dental implants can fill the empty spaces in your smile using a reliable solution. Discover the difference today!
About Dr. John White
Dr. John White is a trusted dentist in the community for advanced dental services. He offers the latest innovations to replace missing teeth, including standard and mini dental implants. Dr. White creates the customized treatments you need to complete your smile. He ensures your comfort throughout the process using IV sedation. If you are ready to enjoy the next best thing to your real teeth, contact our office today to schedule your consultation.