Dentures – Asheville, NC
Full and Partial Restorations for Beautiful Smiles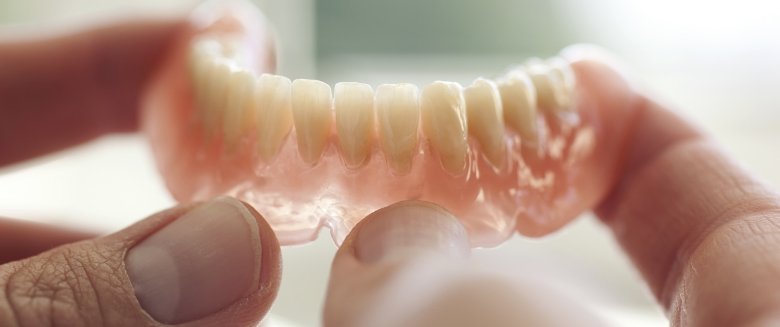 Are you missing all, most, or some of your teeth? This common problem not only affects your appearance, but not replacing your teeth can affect your diet, confidence, and oral health. Dr. John White offers custom-made dentures to provide his patients with a way to replace their whole smile at once. Plus, if you still have healthy teeth remaining, he can use a partial denture to complete the rest of your smile. Keep reading to learn more about dentures in Asheville and how they can help you.
What are Dentures?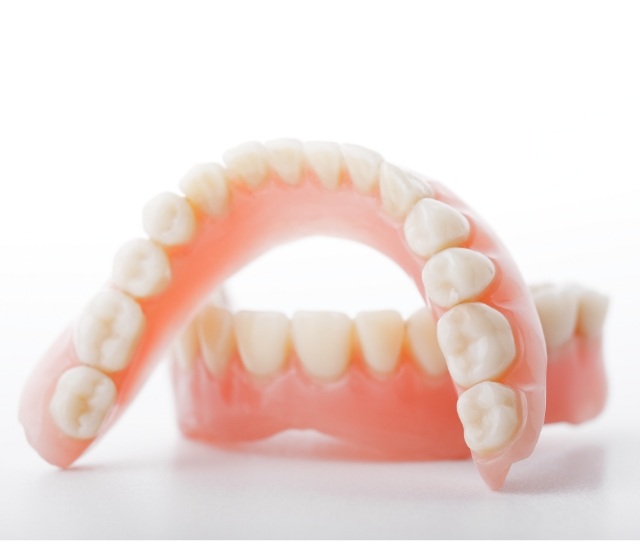 Dentures are prosthetics that are used to replace multiple teeth or even your whole smile. They are composed of a gum-colored base that is attached to your false teeth. Dentures have been made out of many materials, but today they are mostly made of a composite resin. This allows for a light-weight and comfortable replacement.
Partial Dentures
Partial dentures allow us to replace your missing teeth while keeping any healthy and natural teeth intact. These partial dentures seamlessly blend into your smile to give you a full and functional set of teeth.
Full Dentures
Originally used hundreds of years ago, full dentures are still being used today to replace whole arches of your smile. Thankfully, modern dentistry has brought better options than wood or animal bone. Our custom-made dentures are the fastest way to replace all of your teeth and they are personalized for your comfort and function.
The Process of Receiving Dentures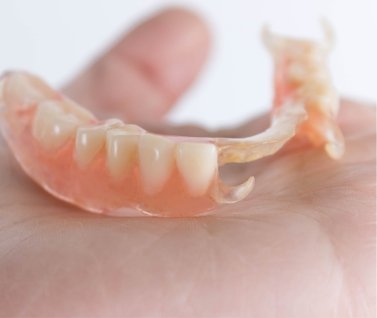 After scheduling an appointment with Dr. White, he will examine your mouth to see which type of denture that you would benefit from most. He may also need to extract certain teeth that are decayed or damaged to accommodate your dentures. After any health issues like decay or gum disease are treated, he will take impressions of your mouth and gums to create your dentures. These are custom made to fit comfortably on top of your gums.
Once your dentures are made, you will come back in for an appointment where Dr. White will ensure that they fit snuggly and comfortably. He will also give you tips on how to keep it in place and your day-to-day with dentures. Sometimes, you may want to use denture adhesive to keep your prosthesis in place.
Denture Care and Maintenance
Caring for your dentures properly is key to their longevity. Remove your dentures and rinse them after eating to get rid of lingering food debris. After removal, clean your mouth to prevent oral health issues like gum disease from occurring. When it's time for bed, place your dentures in soaking solution or water to keep them from drying out. Then, when it's time to put your smile back in, thoroughly rinse them. If you follow these steps, you can expect to have a great looking and feeling denture for years to come.
Dentures FAQs
Maybe you're still unsure if you want to take the plunge to invest in your new smile with dentures. Maybe you have some questions. Not to worry; we've put together this list of the dentures questions we get asked the most often.
Can I Sleep in My Dentures?
Yes, it is possible to wear your dentures at night. However, it is preferred that you do not. By removing your dentures at night, you give your gums and bone a chance to rest from the pressure of supporting your dentures all day. If for some reason you need to wear your dentures at night, find a time during the day to soak them in denture cleanser or water. You should never let 24 hours pass without performing some kind of oral hygiene regimen on your dentures.
Is Getting Dentures Painful?
It's perfectly normal to experience some minor discomfort when you first get fitted for new dentures. If you have worn dentures before and are getting fitted for a new set, this period of irritation might last even longer. In the same vein, if you went straight from having teeth extracted to being fitted for dentures, it may be uncomfortable for the first few weeks. However, as your mouth and facial muscles adjust to the new object, any discomfort or pain should fade.
What Are Permanent Dentures?
Implant-retained dentures, also known as "permanent dentures," are dentures that are anchored in place by dental implants instead of natural suction. As a result, they are sturdier and less likely to slip and slide around while eating and talking. One major advantage that implant-retained dentures have over their traditional counterparts is that they help preserve more of the natural jawbone structure. Dental implants replace the roots of lost teeth, integrating with the jawbone to stimulate it through chewing. Regular dentures alone do not provide this benefit.
How Do I Know When It's Time to Get My Dentures Adjusted?
If your dentures no longer fit quite like they used to, it may be time to pay Dr. White a visit to get them relined. This is when he refits the base of the dentures so that they fit more comfortably in your mouth. Schedule an appointment with us if your dentures feel too loose, too tight, or just not right.
Can I Still Eat Normally with Dentures?
As with any major dental work, dentures can take some time to get used to. That includes learning how to eat a little differently than how you have in the past. It might take a little time before you're confident enough to eat hard or sticky foods without your dentures slipping around. In general, dentures and chewing gum do not mix. Gum might remain stuck to the dentures, eventually causing them to harden and stain.