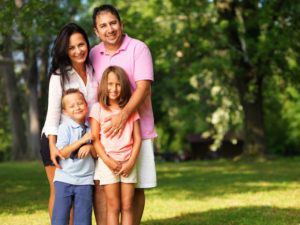 Wisdom teeth — who needs 'em? For most people, the answer is a resounding "Not me!" These third molars don't always need to be extracted, but when they do, having the procedure completed promptly is important for your oral and overall health. We are pleased to offer free consultations to help you determine whether or not you should proceed with removal. Keep reading to learn more about third molars and what you can expect from an extraction procedure from Dr. John White.
Is Extraction Necessary?
Not everyone has third molars. And, for the people who do, they don't necessarily require removal. But if these "extra" teeth are pressing up against those that surround them, are causing pain, or develop an infection, extraction is the best option.
Wisdom teeth removal is most common in the late teenage years, but can still be performed well into adulthood.
During a wisdom tooth consultation, we will determine whether extraction would be beneficial. X-rays help us look beneath the visible surface to see if there are teeth beneath the surface, and whether or not they are likely to cause future issues. If you or your loved one are already experiencing pain or infection as a result of these "extra" teeth, removal should be performed ASAP.
Some of the symptoms that can indicate the need for wisdom tooth extraction include:
An aching jaw

Ear or head pain

Difficulty opening the mouth

Sensitivity

Visibly impacted/partially erupted wisdom teeth

Foul odor emerging from the back of the mouth
IV Sedation Helps You Relax
Wisdom tooth extraction is a fairly routine procedure, but we will still take all measures possible to ensure your complete comfort throughout the process. As a certified sedation dentist, Dr. White can provide IV sedation for maximum relaxation. The medicine is administered directly into the vein, helping to remove you from the sights, smells, and sounds of what is going on around you. You may doze lightly while under IV sedation, but you are technically conscious and able to respond to your dentist's questions. Direct access to the bloodstream allows our team of experts to carefully control the amount of medication that you receive throughout the treatment.
Everything You Need In-House
At John White DDS, we are pleased to provide comprehensive care for wisdom tooth removal procedures. From the initial consultation to the extraction and your post-op appointments to ensure a healthy recovery, you or your loved one can count on having all your needs met from the comfort of one state-of-the-art office.
Think you or your teenager have wisdom teeth that need removal? Don't hesitate to take advantage of our FREE consultation! We know you'll be so glad you did.
About Your Trusted Dentist
Dr. John White is a general dentist providing comprehensive dentistry, including wisdom teeth removals, from the comfort of his Asheville, NC private dental practice. To learn more about his standard of care or to schedule a FREE wisdom tooth consultation, please do not hesitate to get in touch with the office at 828-684-3020.