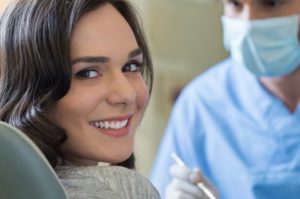 Everyone knows that they're supposed to brush their teeth every day and visit their dentist at least once a year (if you didn't know, now you do!).  It's also a general rule to floss your teeth once a day and fit in at least one round of mouth-washing before bedtime.
Besides preventing minor dental problems like cavities or the beginning of tooth decay, brushing and flossing your teeth can keep you healthy in a bunch of other ways. Your dentist is here to scare you straight when it comes to maintaining excellent dental health.
Declining oral health means poor overall health!
When you choose to keep your teeth and gums clean, you're not only keeping your mouth healthy, you're looking out for your whole body. Poor oral health can lead your body to develop these problems:
Heart disease & Strokes
Oral health and heart disease are connected by the spread of dental debris and bacteria from your mouth to other parts of your body through the blood stream (gum recession). When these bacteria reach the heart, they can attach themselves to any damaged area and cause inflammation.
Cognitive Issues
It's important to keep your mouth healthy while you're young so that your brain will function correctly when you're older. Studies have shown that gum disease caused by poor oral hygiene increase the risk of developing Alzheimer's and other cognitive issues later in life.
Diabetes
Did you know that advanced gum disease is the most common dental health condition that affects diabetics? The reason that periodontal disease (advanced gum disease) specifically affects diabetic patients is that diabetics tend to struggle more with maintaining their blood glucose levels. Bacteria thrive on sugar, and when blood glucose levels aren't held at an appropriate level, it can cause the bacteria in your mouth to multiply quickly. Before you know it, you'll have full-blown gum disease.
Osteoporosis
Keeping your mouth healthy helps to keep all your bones healthy. When too much bacteria between your cheeks can decay the connective tissues that hold your teeth in place, plus weaken the body's immune system. Bone loss (formally known as osteoporosis) already accompanies old age—don't escalate the issue!
It's important to practice preventive care!
To truly care for your teeth and  gums, you must pay attention to everything that goes into your mouth. Your smile is affected by what you eat, what you drink, and how well you brush and floss at home. Also, it's important to visit your dentist for preventative care. Here are a few things you can do to keep your smile strong outside of the dental office:
Brush your teeth at least twice a day for two minutes per session.
Floss your teeth at least once a day.
Stay hydrated with water.
Include vitamin-rich foods in your diet (vegetables and fruits).
Avoid sticky, acidic foods and drinks (sodas and candies).
Avoid using tobacco products.
Limit alcohol consumption.
Keep your dental appointments with Dr. Bishop.
You can improve all aspects of your health by taking the time to visit your dentist every six months. If it's about that time for another appointment, feel free to contact your local dentist.
Meet Your Doctor
Dr. John White has been practicing dentistry since 1998, serving the community of South Asheville for just about two decades! If you need someone who truly understands how to optimize oral health and help you achieve the strong smile you really desire, it's time to contact our Asheville office!