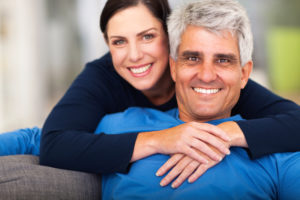 Missing teeth can take a real bite out of your quality of life – but they don't have to. If you have already lost or on the brink of losing one or more teeth, dental implants are a comprehensive replacement option that promote better oral and overall health for life.
Many people are candidates for dental implants. Are you, too? Scheduling a consultation with your implant dentist is the first step to getting started with this sturdy, beautiful tooth replacement. And right now, Dr. John White is offering FREE consultations for dental implants! Keep reading to find out what's so great about dental implants and how you can save visiting your Asheville implant dentist.
Dental Implants: A Comprehensive Solution
A traditional dental implant is a titanium post that is surgically placed beneath your gum line. Here, it stimulates the production of bone tissue and actually fuses with your jaw bone. Once this process, known as osseointegration, is complete, a connecting abutment is placed and the prosthetic tooth or teeth are placed soon after.
Dental implants can support a single crown, a bridge, or a denture. They offer a number of benefits, including:
Stabilized jaw bone

Clearer speech

Can correct prior dental misalignments

Easier eating to help you maintain a balanced, nutritious diet

No need for denture creams or adhesives

Can last for a lifetime with proper care
Mini dental implants are another option for areas of the jaw where there is not much space or supportive bone structure to place a traditional implant post. During a consultation, your implant dentist will consider your unique oral health needs to determine whether you need traditional or mini dental implants.
Everything Handled In-House
Dr. White offers comprehensive dental implant care from the comfort of his state-of-the-art office. Many general dentists must refer the first part of the procedure to an oral surgeon or periodontist, but your South Asheville dentist has completed special dental implant training and has significant experience in every aspect of implant dentistry.
Relax with Comforting Sedation Dentistry
In addition to being a qualified implant dentist, Dr. White is also certified in sedation dentistry. With the help of IV sedation, you can feel completely comfortable throughout the entire dental implant process. IV sedation is administered directly into the bloodstream, allowing us to closely monitor the amount of medication you receive and adjust as needed throughout the procedure. While you remain technically conscious under this type of sedation, most patients doze lightly — completely relaxed and at-ease throughout the process.
Take Advantage of This Sweet Deal!
If you are curious about whether or not you are eligible for dental implants, there's no reason to wait to schedule your consultation. Don't forget that right now, it's FREE to discuss dental implants with Dr. John White! We invite you to request an appointment online today.