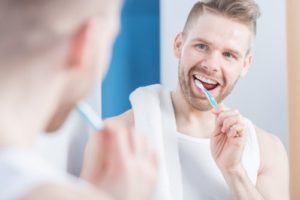 Brushing your teeth regularly is one of the cornerstones of an effective oral hygiene routine. You want to keep those pearly whites in good shape so you can continue to dazzle others with your brilliant smile and winning personality. However, brushing by itself isn't enough to ensure good oral health. Your dentist in Asheville is here to warn you about some common mistakes that could be harming your teeth.
Not Caring for Your Toothbrush Properly
When you're traveling, try not to keep your toothbrush tucked away in its travel case for a long period of time. This is because bacteria thrive in a most environment, and if your toothbrush doesn't have a chance to dry out, you may end up brushing your teeth with all sorts of icky stuff. When you get to your destination, put your toothbrush in an upright storage container and keep it there until you leave.
Another mistake people make is overcleaning their toothbrush. Don't use harsh disinfectants on it or run it through the dishwasher; you don't want to damage it. Just rinse it well with tap water and let it air dry.
Skipping Dental Appointments
When you were a kid, you might have had it drilled into your head that you should visit your dentist twice a year. As an adult, though, you might not make it to your dental care professional quite that often. Get into the habit of scheduling cleanings and checkups twice a year. This is important because your dentist in Asheville can spot small problems and fix them before they become minor issues.
Another mistake people make regarding the dentist? Refusing x-rays. Don't worry about the radiation. The amount used is so minimal that x-rays are actually very safe, and they can help your dentist get a comprehensive understanding of your oral health.
Drinking the Wrong Things
You know that soda is bad for you, but you should avoid other sugary drinks as well. For example, while freshly made juice is packed with nutrients, it may also contain tons of sugar and acid, especially if you love citrus. The acid is terrible for your teeth enamel, so keep that in mind when you're using your juicer. Other drinks that contain a lot of acid include diet soda and coffee.
Try to swap out a flavored beverage or two each day in favor of water. Water helps to rinse away particles that get caught in your mouth, and it keeps your mouth moist. A moist environment helps prevent tooth decay.
Whitening Too Much
It's wonderful to have a radiant smile, but using too much bleaching solution on your teeth can make them extremely sensitive. Be sure to follow the directions on any whitening products you use. You might even think about heading to your dentist for professional, safe teeth bleaching that products dramatic results.
Brushing your teeth doesn't make them invulnerable. Avoid the above mistakes to keep your smile in great shape.
About the Author
Dr. John White has been practicing dentistry in Asheville for decades, and he takes pride in educating his patients and helping them to have excellent oral health. If you have questions about how to care for your smile, contact our office at 828-684-3020.