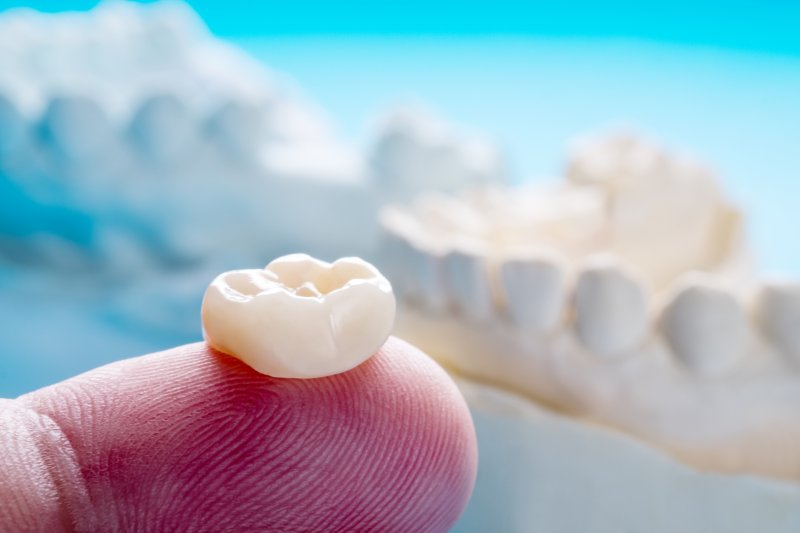 You have just had your very first dental crown placed, but now what? Do you just care for it like a normal tooth? How should you proceed? Dental crowns are a very common type of restoration. Dentists use them for a variety of different problems like teeth that are chipped, cracked, broken, or damaged by tooth decay. Fortunately, they aren't too difficult to care for. Continue reading to learn more from your dentist about the best way to keep your dental crowns in good shape.
What Can I Eat with My New Dental Crown?
The good news is that dental restorations like crowns and implants are great when it comes to eating. They can help you enjoy pretty much all of your favorite foods without having to worry about tooth or gum pain. One thing that you should be steering away from is stickier foods and candy, like toffee and caramel. If you are going to eat one of these, make sure to chew them carefully and on the other side of your mouth so you don't risk dislodging your crown.
How Do I Clean My Dental Crown?
Because crowns are fixed to your natural tooth, you can treat them just like you would with your normal teeth. Brush them at least twice a day using your preferred fluoridated toothpaste. Remember that flossing is absolutely necessary in order to keep your dental crown clean, so you don't experience any irritation or decay on your surrounding teeth. Ask your dentist how to best floss around your crown to safely remove as much plaque as possible.
What Should I Do If My Crown Falls Out?
If your crown comes out when you are eating, be sure to place it in a secure place where it will not be lost. See your emergency dentist as soon as you can, especially if you are experiencing pain. They will decide if they can reattach it or if they should have a new one made for you.
How Else Can I Maintain My Dental Crown?
Continue to visit your dentist for regular checkups and cleanings. They will check to ensure that your crowns are still securely in place. If your crown becomes loose or develops a bad smell, make an appointment with your dentist. This means that bacteria could be getting beneath your crown and you could develop an infection.
Dental crowns are a normal part of life for so many people. By maintaining proper oral hygiene and seeing your dentist on a regular basis, you will forget it's even there!
About the Author
Dr. John White provides several different restoration options, including dental crowns, at his practice in Asheville, NC. He earned his dental degree from the University of North Carolina and has earned his Mastership in the Academy of General Dentistry. For more information on taking care of crowns or to schedule an appointment with Dr. White, visit his website or call (828) 684-3020.