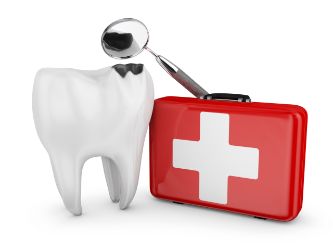 During COVID-19, everyone is encouraged to minimize trips to the hospital as much as possible. This helps you avoid being exposed to the virus, reduces the strain on overworked hospital staff, and also saves critical medical supplies. In addition, don't forget that dental offices are still open for emergency care and are often better-equipped to handle dental emergencies anyway! With that said, there are a small number of exceptions that may require medical care. Keep reading below for information on different types of dental emergencies and why you should always call an emergency dentist before going to the ER. You'll also get some great tips for preventing dental emergencies altogether!
In a Dental Emergency, Should You See an Emergency Dentist or Go To the Hospital?
An emergency dentist has specialized training to handle most types of dental emergencies. By calling them first, they can advise you over the phone and let you know if you need medical treatment. If not, they'll give you first-aid tips to use at home and arrange for you to come in for treatment as soon as possible.
With that said, the following situations generally need to be treated in a hospital emergency room or urgent care center:
Severe facial lacerations or cuts that are likely to need stitches
A broken or dislocated jaw
Moderate or heavy bleeding that doesn't subside after you've applied pressure for 15 minutes
Tips To Prevent Dental Emergencies During COVID-19
Unfortunately, it's impossible to prevent all dental emergencies, but you can greatly reduce the chances of one with the following tips:
Although people are self-isolating and not playing sports, wear a custom-made athletic guard if you or a loved one does any solo recreational activities like mountain biking. This is the best way to prevent serious injuries like knocked-out teeth and can even lessen the severity of a concussion.
Don't chew on ice, hard candies, pens, etc. or open bottles or packages with your teeth.
Maintain good brushing and flossing habits to prevent cavities, toothaches, gum disease, etc.
If you clench and grind at night, wear a custom-made nightguard to prevent chips and fractures.
As soon as dentists reopen for routine care, schedule a checkup and cleaning. These visits are designed to find cavities and other issues in their early stages, before they cause pain.
Dental emergencies are always stressful, and even more so during COVID-19. By calling an emergency dentist and avoiding an unnecessary trip to the hospital, you'll lower your risk of exposure while also conserving precious resources.
About the Author
As a general and emergency dentist, Dr. John White is passionate about providing outstanding care and is one of only 1% of dentists nationwide who has earned Mastership in the Academy of General Dentistry. He's dedicated to helping his patients stay healthy during COVID-19 and is still open for emergency care at this time. If you think you're having a dental emergency or have any questions, you can contact him via his website.