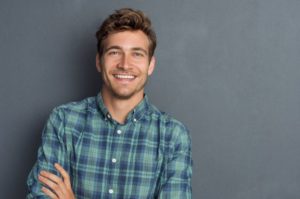 Do you remember learning about the food pyramid in elementary school? It covered everything from the grains you should eat to how you should regulate your sugar intake. It mentioned fruits, vegetables, and dairy products, but do you remember it mentioning how these foods affect your oral health? The answer is probably "Not really."
Fortunately, your dentist in Asheville is here to pick up where your elementary school teacher left off. Without a proper plan to regulate your diet, your oral health could be at risk. It's worth keeping this tips in mind the next time you go out for a bite.
Sugar: The Number One Enemy of Healthy Teeth
Sugar-filled foods are notorious for damaging your overall health. Not only does sugar cause your teeth to decay more quickly, but foods like sodas, sweetened fruit drinks, and non-nutritional snacks carry no substance or nutritional value. The only reason to eat them is for the flavor and brief sugar craving they satisfy.
The biggest issue surrounding sugar is it can often be found in foods we expect to be good for us. The trick is to consume foods that carry enough nutritional value that counter balances their sugar content. Foods like milk, vegetables, and fruits all contain some sugar, but the vitamins and minerals they contain make it worth eating, especially if they are known for promoting oral health. When reducing your sugar intake, take note of the nutritional facts labeled on the sides and bottoms of their packaging. Watch for added sugars, which often exist in soft drinks, candy, cookies, and pastries.
Nutrients Reduce Your Risk of Serious Oral Disease
It's important to include vitamins and minerals that promote good oral health in your diet as often as possible. This includes:
Vitamin A
B Vitamins
Vitamin C
Vitamin D
Calcium
Iodine
Zinc
And many others!
If you lack these nutrients in your diet, you put yourself at higher risk to contract oral disease. For example, if the tissues in your mouth aren't getting enough nutrients, it makes it more difficult for them resist infection. This will only contribute more to periodontal disease, one of the biggest causes of tooth loss in adults. In fact, researchers have found that disease can become more severe and progress faster in patients with nutrient-poor diets.
Eat Right and Be Mindful of Snacking Habits
To prevent future disease, make sure your diet is varied and containing foods from all five of the major food groups. Try not to snack as much, as this will only make eating other balanced meals more difficult. If you must snack, stick with foods containing vitamins and minerals you need. This could include cheese, raw vegetables, plain yogurt, or sliced fruit.
To keep your saliva production high, eat foods as part of a meal so you more easily wash away acids that live in the mouth. Acids are the main causes of tooth decay, so the higher the pH balance is in your mouth, the better.
To learn more about maintaining a healthy diet, schedule an appointment with your Asheville dentist today!
About the Author
Dr. John White earned his Bachelor of Science degree in chemistry from the University of North Carolina At Chapel Hill. He eventually went on to complete his Doctor of Dental Surgery requirements and undergo a two-year post-doctoral residency program at Wake Forest University Baptist Hospitals and the Bowman Gray School of Medicine. To learn more about his practice, contact him at (828) 684-3020 or visit his website.