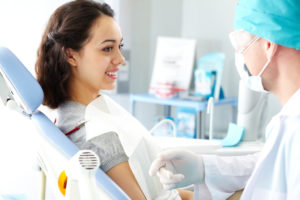 Prevention is the key to great dental care. That means taking care of your teeth and gums at home as well as visiting your dentist in Asheville regularly. Just simple brushing and flossing can contain the spread of infections, dangerous bacteria, and even worse—tooth decay—for so long. Now more than ever, the office of John White can help you prevent these pesky dental issues. Our dental team takes pride in staying up to date with modern dental technology. We now have advanced laser cavity detection machine, the DIAGNOdent Classic, that will take your dental cleanings and checkups to the next level.
DIAGNOdent Classic
This is a laser fluorescence cavity detection aid. Because more and more patients are valuing their healthy attractive teeth, the dental market had to respond. The dental community released this detection aid so that your local dentists, just like your dentist in 28803, can find cavities that aren't even close to the surface of your tooth. That normally would take a long time. However, now Dr. White can reverse these negative effects by providing dental care you need at an earlier stage.
Accuracy
The DIAGNOdent cavity detection aid we have in our office provides over 90% accuracy! This machine detects dental problems in more detail and even earlier than bitewing x-rays. Because of its accuracy, this device is now used by more than 20,000 dental professionals in the U.S., Dr. White being one of few in Asheville. The DIAGNOdent has also been integrated into the curriculum by a growing number of dental schools, integrating itself into the future of dentistry.
Easy Calibration
For your dentist to decide on a treatment for you, he needs to be certain that he's relying on the correct information. With this detection aid, our dentist has no doubt in its treatment suggestion regarding hidden carries and strained grooves of your teeth.
Easy Cleaning
The tip that gets inserted into each patient's mouth is detachable and sterilizable. Maintenance is easy! Keeping our practice clean and safe for our patience is and always will be our priority.
Safety
Yes, technology has made a lot of strides in making preventive care more safe for patients. As time goes on, radiation levels become more scarce and make the dental office safer than ever. The DIAGNOdent not only provides a higher level of patient care but also keeps our treatments harmless. The product poses no danger to staff or patients because it uses light energy with no x-ray exposure.
Dr. white and the rest of the team in our Asheville office will keep a close eye out for damage caused by gum disease and especially tooth decay. Our advanced technology will bring your oral health to the next level. Contact our office today, you may just be saving yourself dental problems down the road!